On the night I begin drawing, the waxing gibbous moon is visible above the trees. It's filling up with silvery grief and pouring into us making puddles all around. Ecological grief swells, flows and spills from the highest spot down to the depths.
A large pebble from Felixstowe beach is heavy in my palm. On its surface, there's an image of a deep-sea fish inside a fish god, alongside a childlike drawing of a heart. The pebble is one from another time. Its changes are so slow for us. It takes me days to render, with oil pastels, inks and chalks, its form and weight, and surface images. Reparations on the ground are slow. We slow our pace to play in time.
- Ruth Catlow
Grief, she asks, where is it and what shape?
I feel resistance in my body to engage. It's been too much, it's been too much. I know it and I don't want to feel it right now, not right now, not tonight.
My own regeneration has been in dancing and nourishing physical connections with other humans and places. Something that makes life deeper, richer, more tender but also more heartbreaking because of all the contrast of all the pain and all the love.
I needed to learn to feel ecological grief, before I could experience it. I haven't been raised with a connection to the living world in a way that would make me feel the sadness for the harm done to it/us. I might've been intellectually angry, but I didn't truly feel it.
I learned about the mass pigs' death in the ASFV pandemic just as COVID-19 pandemic was spreading in the human world. Learning about the deaths of pigs, learning to be affected, learning to hold the space for myself and others who stepped into the mourning for the pigs space, learning to come through to the other side to celebrate lives lived in order to honour lives lost.
One more time with feeling, hold the space for me, when you can, and I will hold the space for you, when I can in this murky, beautiful, terrible, effervescent world.
- Iryna Zamuruieva
There are elements of other women's lives that strike a note, bring a revelation and inspire. These women are musicians, writers, scientists, activists, philosophers, stars and artists, unique in their skill, achievements and genre, with fascinating live stories, defying odds and breaking ground with courage and tenderness. Each one of them connects with me through their beautiful originality:
…the captivating fantasy of Beatrix Potter, Nnedi Okorafor and Sophia de Mello Breyner to invent worlds for children and young adults…
…the glamorous Amalia Rodrigues, Billie Holiday and Cesaria Evora who captured the essence of their people in their music…
…the brilliance of Katherine Johnson and Marie Tharp in science…
… the adventurous creativity of Amelia Earhart and Hedy Lamarr…
…the philosophy and activism of Mary Wollstonecraft and Iris Murdoch…
…the visceral and extremely powerful art of Frida Kahlo and Paula Rego…
…the tenderness of Bulgarian actresses Katya Paskaleva and Nevena Kokanova…
…the reality and heritage embodied in the works of Alice Walker, Chimamanda Ngozi Adichie and Blaga Dimitrova…
…the inspiring energy of the Portuguese Carminho and Capeverdian Elida Almeida…
…and one of my most favourite of all times: writer, artist, activist and incredible star Maya Angelou.
This is regeneration.
- Velichka Dimintrova
Taken at Somerset House on the stairwell - folks making the massive wreaths for festive decorations (all of them are going up around Soho at the moment). I love it partly for the unexpected gods-eye view - you need to see it from above to take it all in, until the point where they finished, and also just because it's massive. There's something so calming about being around big things; classical sublime stuff, feeling insignificant in the face of bigger things, where 'bigger things' = a stupidly large yule wreath.
- Georgina Voss
To me the ecological loss is something that is ongoing, stemming from the past to the future. It comes to my mind as dark unknowingness. Hence the dark space in the middle. This space is surrounded by loss and regeneration. The two opposites that are connected with the unknown, hope or hopelessness. It depends what we do with this feeling, what are our actions. This matters.
- Liina Lember
Here, in the city of Vancouver, Canada, we are surrounded by the Pacific Ocean, the West Coast mountain range, and a temporal rain forest. I am sometimes overwhelmed by this city, as it combines the best of nature and yet also a city of 3 million souls.
We work together here, as best as we can, us humans in the city, the sea and its creatures, and the forests and its inhabitants. Sometimes though, this isn't enough. The world is changing, the climate is changing too rapidly, and the balance we once enjoyed is starting to crack.
For me, it's especially noticeable in our urban temporal forests. Each spring, groups of volunteers come together. The overgrowth of invasive ivy is robbing indigenous trees of the nourishment and sunlight they need to survive. Hours are spent pulling and convincing it to let go of the trees it has encircled. We pull off long tendrils, sometimes 10 feet, we gather it up and pile it onto trucks to be driven away to green recycling centres to be shredded - an effective way of giving back the sunlight and the air to the maples.
Some of us think of ways to use the ivy tendrils. Some make small garden walls with it, some use it for lanterns, some make wreaths. I make baskets. To hold young maple seedlings. To remind myself of the importance of symbiotic relationships, even if at first, it's difficult to see the good.
My ivy tendrils that I had gathered months before are now baskets and are given a second chance. I ask them to take care of the young Maples, rather than to strangle them. To protect them as they form roots, rather than to smother them with their own invasive roots. I ask them to be good stewards of this beautiful forest we are lucky enough to be surrounded by.
- Christina Gibson
A snake on rocks, in water. Inspired by the many trips to Lund Harbour where Caden has spent time observing and following the snakes ...
- Vivian Xudan Pan Ladner, for Caden
I'm traveling this week in a bare hotel room so not at home with my usual materials. I thought I could create a little poem of sorts on social media. These are the words that came to mind after I read your prompt.
- Laura Forlano
Grief, loss and regeneration are intertwined for me. They are an integral part of the interconnectedness and interdependence of all life forms. Part of these connections is a collective responsibility to 'see' these entanglements and live by them. There is fragility within regeneration and loss that can be compared to buds staying dormant or finding a way to grow.
- Sabine Hielscher
I'm an experimental filmmaker and poet attending school in London at Goldsmiths College. My roots are in the Missouri River floodplain and I am so moved by your participatory practice. Particularly, the steps that you've created to help collaborators get into the same head / body (etc.) space. This reminds me of Fluxus artists of the 60s and 70s and perhaps Yoko Ono's great art book Grapefruit.

While breathing a line from Wisława Szymborska came to mind, This is where I should've started: the air.
I'm not sure it is even recollected accurately, but I placed it inside a gallery book with two leaves that were pressed inside a heavy book I have on Artists' Film. The Gingko--called the living fossil as it's unchanged for more than 200 million years--and a poinsettia leaf (red 'petal').
- Michéle Saint Michel
I never liked the idea of cutting live flowers for human amusement. Yet, as I grieve the loss of my mother (earth), I cling even to the dried remains of life experienced.

My sorrow is only contained by those who love me and who share my longing for what once was.
Grief comes in and out of focus, in a split second, you focus on life and death in the same breath, in the same frame. The pain of loss propels us to have gratitude for what is and what was.
Dried remains, praying for the light of tomorrow and containing what is precious, today.
- Mauree Aki Matsusaka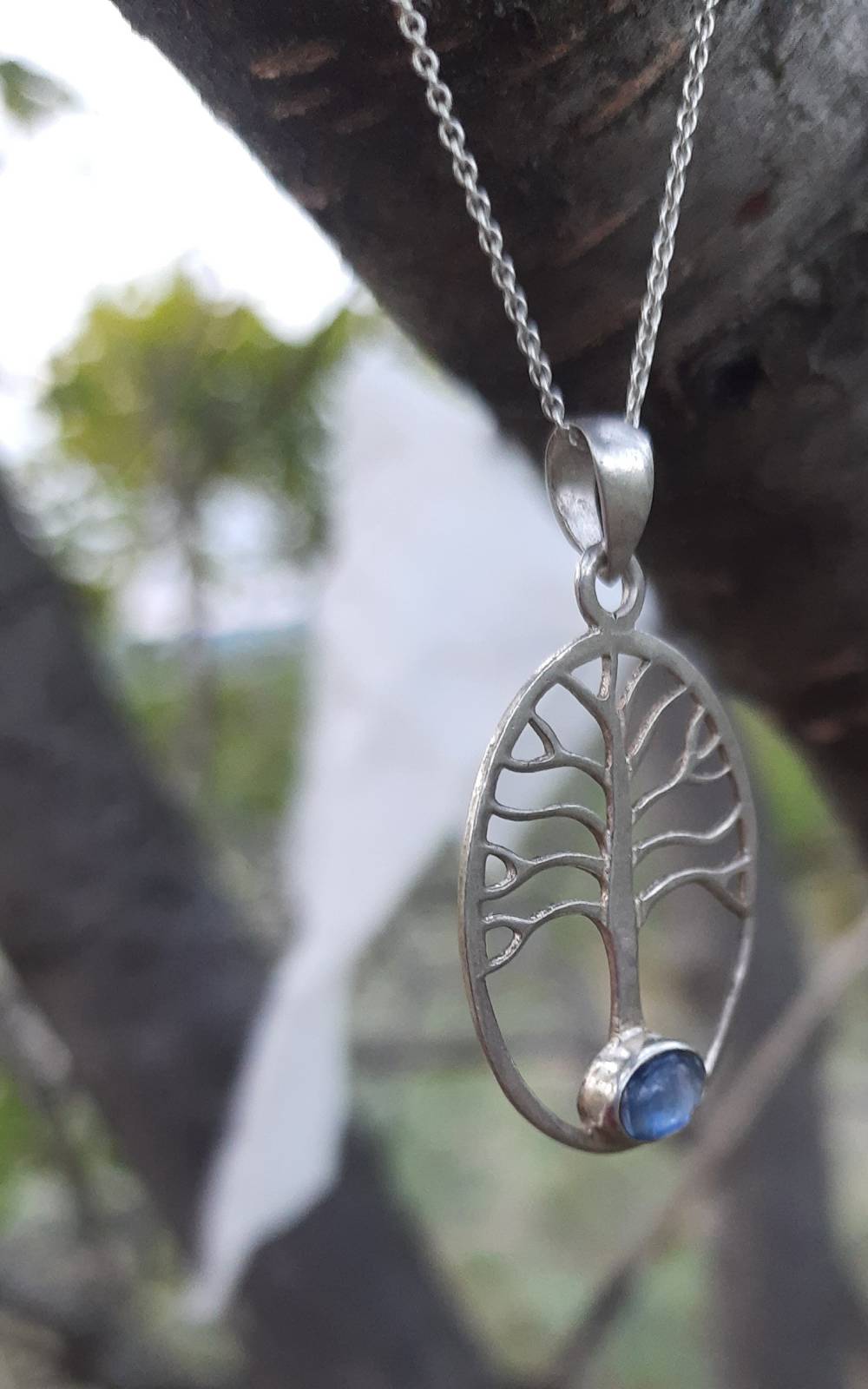 I am a psychotherapist, eco-counsellor and shamanic practitioner based in Italy, in the Karst region of Trieste. The space from which my contribution emerged is a wild, life-full and now protected piece of land that witnessed and holds the memory of the tragedies experienced by many people - including my ancestors - during WW2. Ecological grief and regeneration bridge two different experiences for me, one is inner and personal; the other is outer and collective. My individual grief and our collective grief converge and converse. Through words, I bring my human voice to a much larger reality, made by all that is other-than-human. With two man-made objects that I found in my pocket - a cotton handkerchief and a silver pendant - I represented this convergence and this conversation. As an eco-logical being, my/our grief is Mother Earth's grief, and my/our regeneration is hers too.
- Elisa Cunial
- Anika Saigal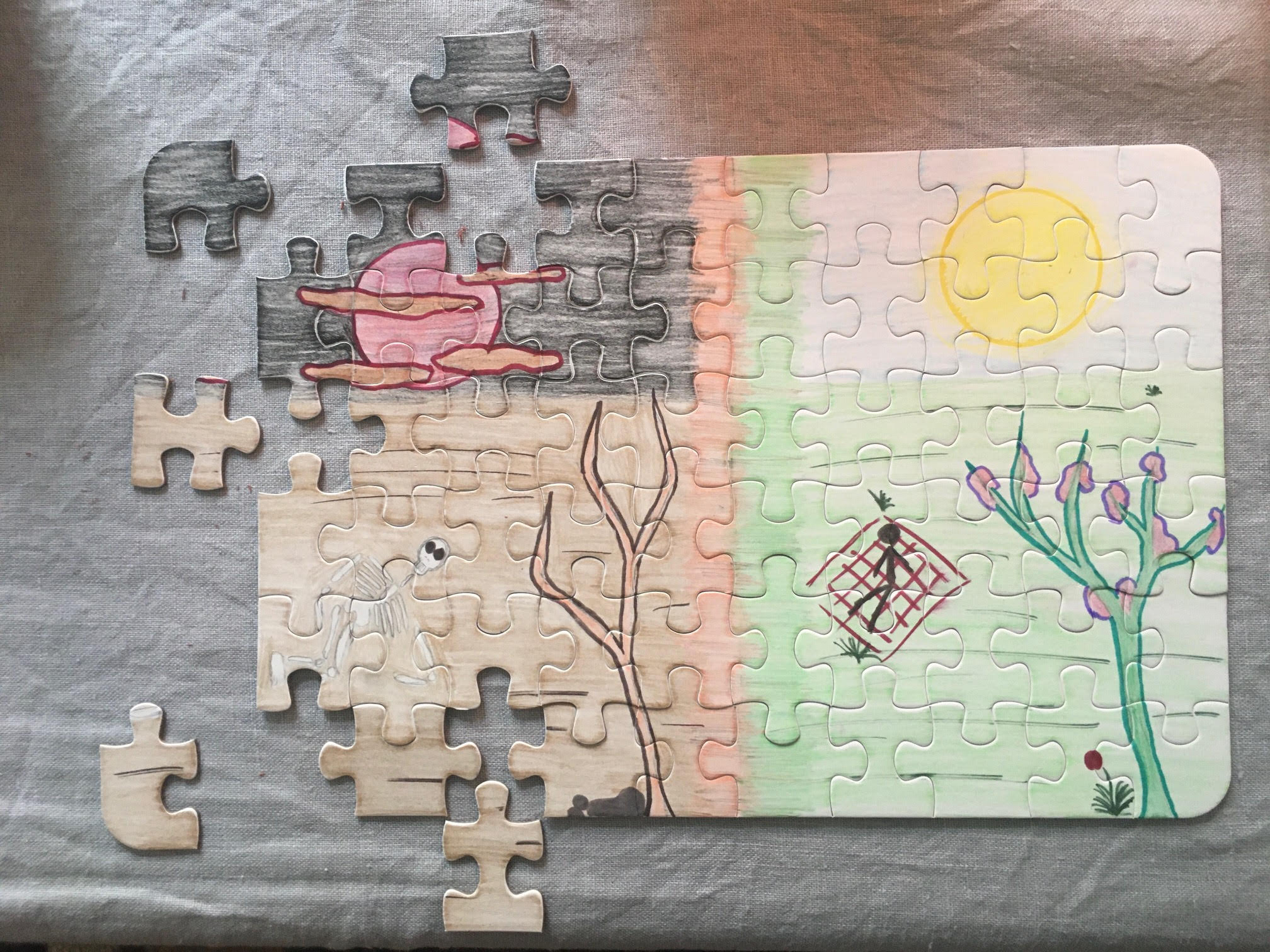 - Lene Albrecht
My hair fell out on the floor.
The flower I grew fell out on the floor.
We metabolize together.
Falling is a kind of sadness.
But we both can be reborn in ecological regeneration.
This is what is in my mind.
- Mengci Liu
An analogue decollage reflecting on the contrasts between grief and regeneration. The process of tearing and being torn is grief-associated, while remaining paper and white gaps here and there are glimmers of hope and more reassuring futures.
- Ekaterina Gladkova
About this mulch state of mind: I wasn't at home but in Sevilla visiting a friend when following the steps, and felt I needed to draw outdoors ... close to some trees instead of inside an apartment.
- Enric Senabre Hidalgo
It was early morning. Sitting on the stairs in front of the golden gate of Mezquita-Catedral de Córdoba, I saw the crucible of violent histories and hope. A statue of what was thought to be the guardian angel of the city from the 18th century. Above it, the crescent moon. To the left, the rising sun. Behind, people crossing the old bridge, to wherever they need to go. Nearby, seeds of wild ancient wheat sprouting. New stories begin.
- Jaz Hee-jeong Choi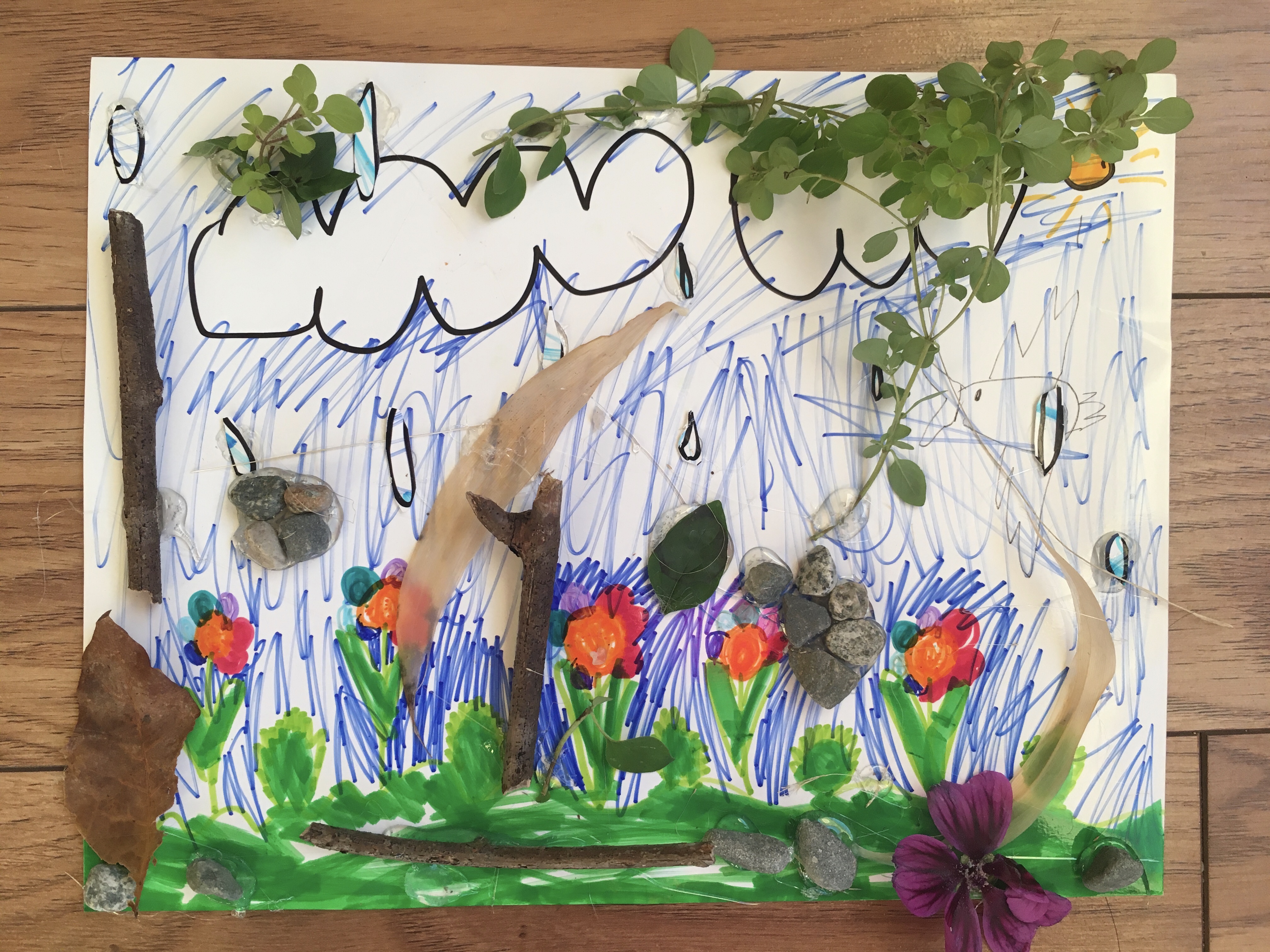 This was made with markers, and natural elements picked from our garden and glued to the piece. It is inspired by nature and flowers, which Irie particularly loves, and you'll notice the rain drops, which were drawn, cut out and glued on, representing nourishment and regeneration for the plants and vegetables.
- Vivian Xudan Pan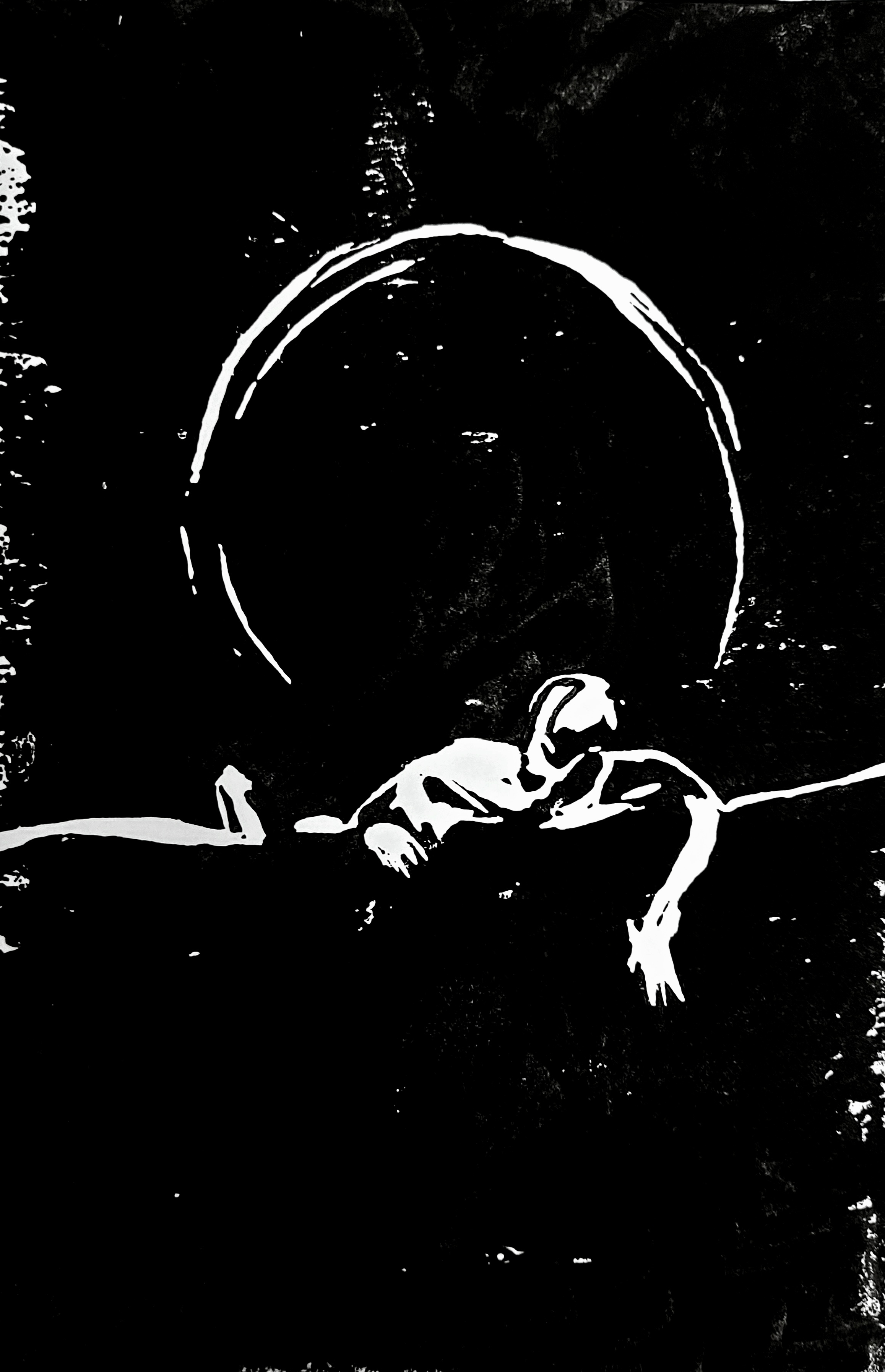 The image of a person hauling herself away from a swollen sun and into
sanctuary… this is a print I made when the mural challenge came and I thought
of how to represent my sense of a burning planet. My grief is more nuanced, not
black and white, but I do wonder how we will cope with the coming heat and it
breaks me up inside that our leaders won't tackle this trajectory while there is a
chance for a more hospitable home.
- Ann Light
This used to be my mesosanctuary place in Athens. An urban balcony-turned into a green space, relieving my eco-grief, and all kinds of grievances. Well, yeah, it had the most green and beautiful leaves.
- Kalina Ntampiza